July 31, 2012
Traditional Tools in a Modern Workplace
Southampton-based photographer makes the global grade with shot in support of World Breastfeeding Week.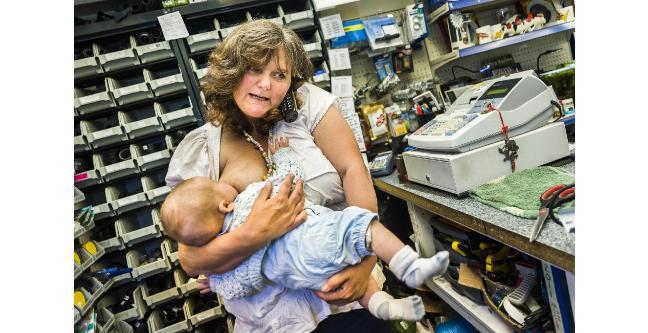 Paul Carter's photograph, entitled "Woman at Work" succeeded as one of only ten world-wide winners. The competition, to promote World Breastfeeding Week, was designed to assess the progress made by the World Alliance for Breastfeeding Action (WABA)'s Global Strategy for Infant and Young Child Feeding. WABA believes that the implementation of this strategy is essential to increasing breastfeeding rates, especially exclusive breastfeeding for the first six months and Carter's photo encapsulates today's modern, fast-paced society – much of which can act as a blocker to successful feeding.
The woman, Lucie Mann, is seen breastfeeding her son James while answering the phone to a customer at her family shop, Greenmann Aquatics, in Dorset. Lucie says "I am lucky to have the choice in being able to take James to work; many women no longer have the luxury of stopping work to look after their babies. I like the fact that the picture portrays many different angles about modern motherhood – good and bad - this will get people talking about breastfeeding which can only be a good thing."
"I am extremely proud, proud of the photo, proud of the win, proud to be a part of something really special with our breastfeeding peer support program - Mums for Mums, but more than anything I am proud to have breastfed both my sons. The right to have good jobs and careers and to 'have it all' was a long, hard fought battle by many strong women. This picture shows the reality of 'having it all'. This picture is not posed, Paul who had been taking photos of me for the breastfeeding picture library, was in the middle of changing lenses when the phone rang. All the staff were busy serving, so I did my job and answered the phone. Quickly Paul started snapping, and captured my reality of being a modern woman in 2012."
"I would say to any business owner, find a way to help your female workers, have nice places for women to express if they need too, allow flexible working around feeding, and provide on-site childcare. It is all much easier than you think, and you end up with workers who are happier to be working, who are not worrying about their child, who are less likely to suffer from depression. We may not 'have it all' yet, but I do believe we can get a lot nearer to it than we are now. We need to respect women's choices and make it easier to work or not work and still feed their babies."
Paul, a freelance editorial photographer, is part of the "We Do It In Public" alliance, an informal group of breastfeeding mothers, breastfeeding support midwives and others who are helping to gather images for an online library of women feeding at home and out and about. These images can be used to promote breastfeeding and increase confidence amongst women feeding. Barriers to successful breastfeeding can be related to confidence, perceived public opinion or even negative influences of friends or family. Lucie and others who are taking part in Paul's project have the support of Bosom Pals, a breastfeeding support group run by New Forest midwife and International Board Certified Lactation Consultant (IBCLC), Jayne Threlfall. Bosom Pals runs weekly meetings at various locations in South Hampshire and the New Forest enabling women to have one-to-one support and guidance to make their breastfeeding experience a success. It also runs a peer-to-peer training course, Mums for Mums, helping breastfeeding mums to support others with the benefit of their direct experience.
Notes to Editors:
For enquiries or further information, please contact Lisa Watts (lisawatts0203@googlemail.com) or Paul Carter (paul@paulcarter-photographer.co.uk)
World Breastfeeding Week (WBW) has been celebrated every 1-7 August since 1992 by breastfeeding supporters in over 170 countries. It is endorsed and supported by UNICEF, WHO, FAO and ministries of health in many countries.
WBW Global Strategy: The World Health Organisation (WHO) and the United Nations Children's Fund (UNICEF) jointly developed and launched the Global Strategy for Infant and Young Child Feeding (GS) in 2002 reaffirming the four Innocenti targets set in 1995, and setting additional targets. The GS has identified a clear need for optimal infant feeding practices in reducing malnutrition as well as poverty. It is based on a human rights approach and calls for the development of comprehensive national policies on infant and young child feeding. It provides guidance on how to protect, promote and support exclusive breastfeeding for first six months, and continued breastfeeding for two years or beyond together with adequate, appropriate and indigenous complementary feeding starting from the age of six months.
Further information on Paul Carter's breastfeeding photography project can be seen at www.breastfeedinginpublic.co.uk
For more information on Bosom Pals, contact Jayne Threlfall (jaynethrelfall@sky.com)