---
August 2018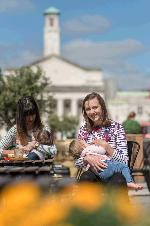 World Breastfeeding Week exhibition -
"Breastfeeding in Southampton - Every Day Counts"
Earlier this year members of WDIIP were invited by Southampton City Council to contribute to a project to mark WABA / World Breastfeeding Week, 1-7 August 2018. Jayne, a midwife and lactation consultant (IBLC), was on the advisory group and Paul was commissioned to take a special set of photos showing mothers breastfeeding in recognisable Southampton locations. The idea was to merge art with public health promotion.
---
May 2018
Exhibition
Holding Time, Royal Brompton Hospital, London - 15 April - 14 June, 2018

Holding Time is a new body of work by photographic artist Lisa Creagh.
Free admission, 24 hours per day, seven days per week
Exhibition Space, Royal Brompton Hospital, Sydney Street, London SW3 6NP
Members of WDIIP went to Brighton to talk to Lisa Creagh earlier in the year at her showing of Holding Time iin a gallery there. We highly recommend seeing her work. The Royal Brompton Hospital will be showing Holding Time for two months this spring, with an installation of photographic still portraits, a single screen animation and video recorded interviews with participating mothers. The exhibition will also feature a specially commissioned piece for the Trust, which includes interviews with Sabrina Byrne and doctors and nurses who support mothers with seriously ill babies through the process of breastfeeding. The finished piece will be on permanent exhibition in the expressing room in Rose Ward after the exhibition.
---
Jan 2016
"Where every Baby Matters", Hillingdon's Baby Friendly Initiative Conference
Paul and Jayne from WDIIP were invited to do a short talk about the project at a day conference in Hillingdon in west London. Paul photographed the conference and added some photos to our library.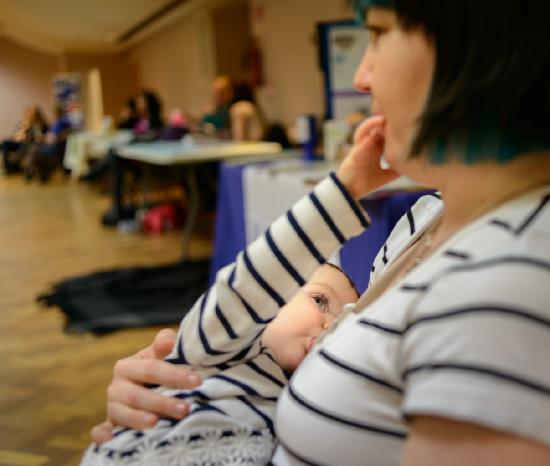 ---
Spring 2015
LCGB Conference Flyer and Website
The training and accreditation organisation Lactation Consultants of Great Britain have continued to support WDIIP by using one of our photos on their flyer promoting this year's LCGB conference and and several on their smart new website, including one of our own IBCLC and founding member Jayne Threlfall.
http://www.lcgb.org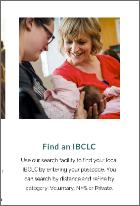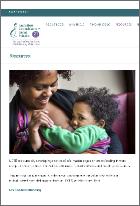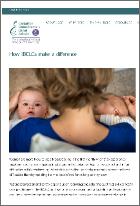 ---
Winter 2014/15
Juno Magazine
The natural parenting magazine Juno helped find us some volunteers and used some of our images in its winter edition. http://www.junomagazine.com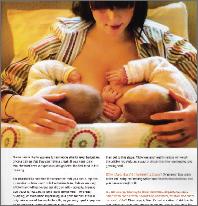 ---
August 1, 2014
We Do It In Public Book Launch
We Do It In Public have published a book of photos drawn from our picture library. We are going to launch it as part of World Breastfeeding Week events in Southampton.
Breastfeeding: Anytime. Anywhere. includes pictures of breastfeeding out and about, at work, at home, with twins, with older children, around dads, at support groups and at birth.The book also includes reflections by some of our volunteers on their breastfeeding experiences, an overview of good reasons to breastfeed, and a set of links for more information and help. The book has mainly been conceived as a resource for kick starting discussions in breastfeeding education and support groups, but hopefully it will help new mums and dads feel more relaxed about the practicalities of breastfeeding too.
Southampton and New Forest Breastfeeding Champions - a group of midwives, midwifery support workers, health visitors and breastfeeding support workers have invited breastfeeding mothers, their family and friends to meet up in Southampton IKEA restaurant area from 1-3pm on Wednesday, August 6th. WDIIP are inviting all our supporters to come and celebrate with us there too. We will have the books on sale at a launch day discounted price of £12. Cash or cheque only please. If you cannot get to the IKEA event a Book page will be launched on this website that day too, where you will be able to view some of the photo spreads and buy the book online.
---
August 1, 2014
World Breastfeeding Week Social Media Campaign
One of he users of our images, The Southern Health NHS Foundation Trust, have come with a novel way to support World Breast Feeding week, during 1-7 August 2014. They with four other NHS Trusts across Hampshire are encouraging mums throughout the UK to feel comfortable about breastfeeding in public with a new social media campaign #breast4mybaby. During the week the would like mums to let them know where they are proud to be breastfeeding their baby by using popular social media platforms, such as Twitter and Facebook, to check in and update their status or send a tweet and then nominate a friend; selfies are optional!
Eg 'I'm proud to be breastfeeding Millie at the coffee house, Southampton' #breast4mybaby #WBW2014
They have created the hashtag #breast4mybaby to help support the campaign, encourage it to go viral and so have another way to measure it's success. World Breastfeeding week also has its own hashtag #WBW2014.
More at http://www.southernhealth.nhs.uk/news/breast-4-my-baby/
---
April, 2014
Brighton Breastfeeding
Two lactation consultants have used some of our photos to great effect on their website, Brighton Breastfeeding.
---
February, 2014
Baby Milk Action calendar
The international campaigning organisation Baby Milk Action has selected one of our photos for its iconic 2015 calendar.
---
November 2013
ABM magazine article
The Association of Breastfeeding Mothers magazine has done an article about We Do In Public in its Winter 2013 issue.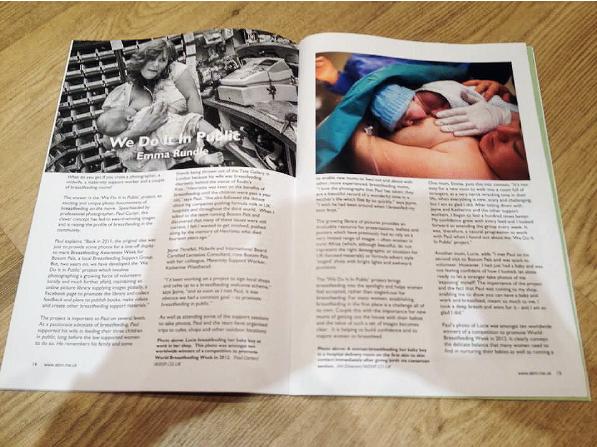 ---
August 15, 2013
And Again
The media have been in touch again. This time it was Julia George, a phone-in programme on BBC Radio Kent, looking at the story about the woman breastfeeding in the swimming pool. Paul took that one. Lisa contributed to the same debate on LBC and Stef got on the Radio 2 Jeremy Vine show that was covering the same story. WDIIP seems to being identified as a campaigning organisation. I suppose we are in our own quiet way, but it is our pictures that do the real work - showing that, all this debating aside, loads of mum's are just getting on with feeding and comforting their children for free at home and out and about by breastfeeding them whenever and wherever they need it.
---
August 14, 2013
Media ask WDIIP again for comment on Breastfeeding in Public story
WDIIP's press contact Lisa Watts has been asked a second time in a week by the Mail Online to comment on a Breastfeeding in Public story. This time it is about a woman who was told to stop breastfeeding at a swimming pool. Lisa's bit reads:
A spokesman for We Do It In Public, a campaign group supporting breastfeeding in public, said: 'Perceptions of breastfeeding in public still continues to be a sticking point for both new and experienced mums who choose to breastfeed.
'It's such a shame that as a society we are still seeing cases where people are asked to leave public places, just because they are feeding their baby.'
Read the full article here.
---
August 11, 2013
WDIIP photo travels to the other side of the world
International online breastfeeding education organisation iLactation used a familiar WDIIP image to help advertise their latest online conference. See their poster below with our picture top right. iLactation provides internet based education for lactation consultants, doctors, nurses, midwives and volunteer breastfeeding supporters in over 40 countries.
---
August 9, 2013
Stefanie featured in the Sun article - "when do you stop breastfeeding your child?"
One of WDIIP's most active volunteers and core team members, Stefanie Sofianos, has been featured in an article in the Sun newspaper (Wed Aug 7th issue), looking at the question of when to stop breastfeeding your child. Click the picture stack on the right to see Stef's interview comments and the double page spread given to the article.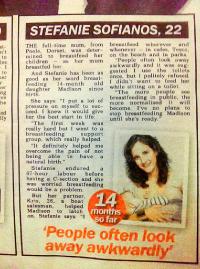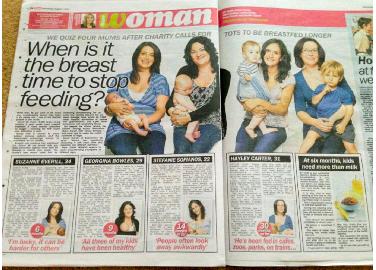 ---
August 8, 2013
WDIIP in News Debate
The media have been covering a story today about a woman who had an interview at a Job Centre terminated because she breastfed her baby. WDIIP team member, journalist Lisa Watts, has been participating in the debate under the banner of WDIIP and got some good mentions for us as well as making some strong points in favour of the need for mothers to be able to breastfeed their babies in public without harassment.
View:
News Shopper article
Daily Mail article
Lisa was also on BBC Radio London tonight. Listen again to the Drive Time with Eddie Nestor programme.
---
August 7, 2013
Southampton Breastfeeding Champions Group create poster for World Breastfeeding Week
The Southampton Breastfeeding Champions Group, a group of NHS breastfeeding support professionals, have created a fun poster that tells the story of breastfeeding in a nutshell to mark World Breastfeeding Week 2013. Using the photographs and design services of WDIIP the comic book style poster loosely portrays a time line of breastfeeding from birth to weaning, reminding mothers that things do not always go straight forwardly but with trained support volunteers and professionals it usually turns out fine. Download the poster and print it freely. Download Poster
---
August 7, 2013
WDIIP photos of Southampton Breastfeeding Champions celebration of World Breastfeeding Week at Southampton IKEA
The Southampton Breastfeeding Champions Group, a group of NHS breastfeeding support professionals, invited breastfeeding mothers to join them in the restaurant of Southampton IKEA to celebrate WABA World Breastfeeding Week today. WDIIP was there with our banners and photographer. View a selection of the photos.
---
August 2, 2013
WDIIP photos of Poole mothers marking World Breastfeeding Week with Big Latch On event
Click here to see a group of mothers from Poole area (many past WDIIP volunteer subjects) all breastfeeding their babies at the same time and raising their hands to be counted in The Big Latch On at Sevens Boatshed restaurant and cafe in Poole Park, Poole Dorset. The women were from many breastfeeding support centres in the Poole area.
The Big Latch On is an annual event that helps mark World Breastfeeding Week . The Big Latch On descibes itself on its website as "Groups of breastfeeding women coming together at registered locations around the world to all latch on their child at a set time. All the breastfeeding women and children are latched on for one minute at the set time and are counted by the witnesses. The numbers are added up and we see if we can beat previous Big Latch On records! ".
---
July 10, 2013
NHS website launches "Dad's" leaflet using WDIIP pictures
The New Forest and Romsey Breastfeeding Local Implementation Group have launched a leaflet for "Dads" - "Is your partner breastfeeding? - TIPS ON HOW YOU CAN BOND WITH BABY TOO." It can be downloaded from the New Forest District Council website or directly from here. All the photos were drawn from our library. There is a very good paragraph on the website page about "Why breastfeeding is important".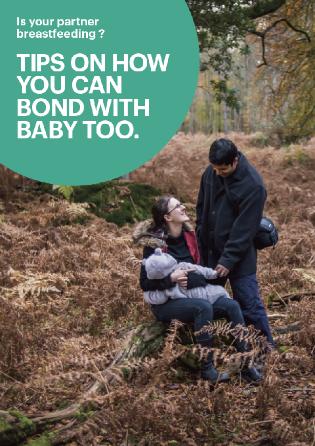 ---
June 17, 2013
LCGB feature WDIIP image in recruitment campaign
The Lactation Consultants of Great Britain (LCGB) recently started a recruitment drive for more members. WDIIP are very pleased that the LCGB have chosen one of our images to front the campaign. It was prominent on the banner at their stall at the Association of Breastfeeding Mothers conference and has pride of place on their leaflet and bookmarks. Shani Dale, the WDIIP volunteer in the picture, felt like a star. She emailed us saying, "I received soooo many messages from friends who attended the ABM conference and saw your fab pictures featuring me and Ella. I felt very proud. I hope you did too :)"
We did, thank you. This is a perfect example of one of the key roles we hoped the the WDIIP project could fulfill.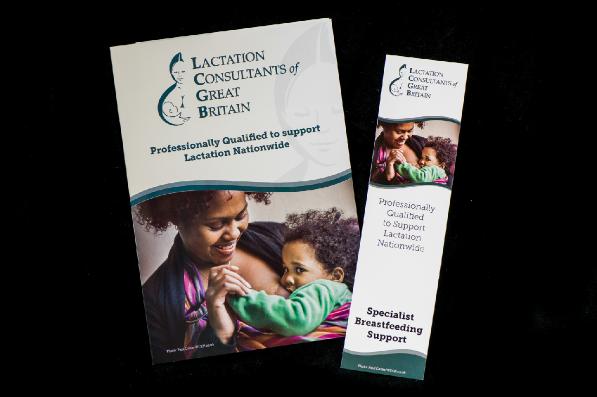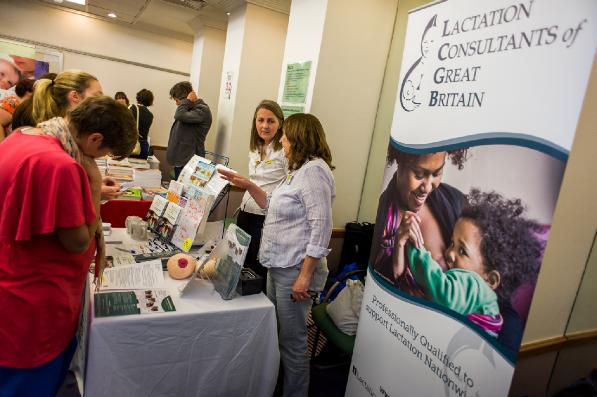 ---
June 10, 2013
WDIIP at the ABM Conference
Jayne, Katherine, Stef and Paul from the WDIIP team and several WDIIP volunteers attended the excellent Association of Breastfeeding Mothers conference in Birmingham last Saturday. While Paul documented the event, Jayne and Katherine spoke to the visitors investigating our first ever WDIIP stand. We got a lot of very positive feedback about our project and lots of ideas of what to do next. Stef was managing our fledgling WDIIP Facebook page that she had set up a couple of days before. It generated 30 "Likes" on the day.
The stall consisted of two banners, a slide show of images selected from the library, our new poster (you can download a copy to print yourself from here), our illustrated business cards and two trial copies of a book we are hoping to publish through blurb.com. More about that another time. Watch this space!
Meanwhile see the banners and poster better on our View Images page.
Photos of conference:
Paul Carter / WDIIP/ ABM
---
May 2013
New Images and tweaks to the website
Over two hundred new images (see the link to them on this page) have been added to the Library and changes made to the structure of the website to try to make it clearer. There is another set of photos with twins, some great shots of a mum in the last part of her pregnancy and then on the day of the birth, a day in the life of a busy mum who is continuing to feed two older children, mums at a breastfeeding support group and many more. The library has been divided into sub galleries to give more search and browsing options. And there are more photos and features in the pipeline, including a plan to have a section for volunteers' own photos.
Suggestions and comments always welcome.
---
April, 2013
Dad Did It
All the photos in the Library until now have been taken by founding member of WDIIP, Paul Carter. But when he went to take photos of a volunteer giving her newborn baby boy his first feed on the first skin to skin contact after an elective C-Section, the hospital stuck to their rules to only allow one extra person in the delivery room. So Paul handed his camera over to husband, Jim, and look what a stunning photo he got! It has been added to the Library along with two others Jim took. Paul did eventually catch up with mother and baby in the recovery room and got some very nice shots too, including some lovely ones of mum feeding her tiny little boy and her sleepy three year old daughter at the same time.
---
March, 2013
Breastfeeding advice and support photos

Breastfeeding isn't always as "natural" and straightforward as you would like it to be. Many mothers find that they need to find good advice and support either to get the feeding going or to keep it going. To acknowledge this crucial aspect of successful breastfeeding, we have started to build up a collection of images taken during advice sessions at drop-in support groups, including documenting a tongue-tie division. We hope to extend this set of pictures to also include short videos demonstrating the techniques that support professionals regularly pass on in these groups.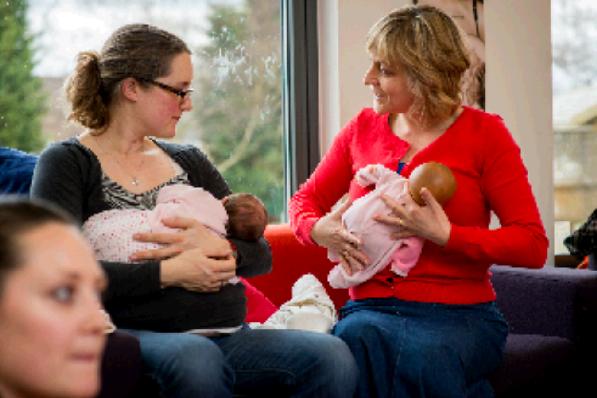 ---
January 15, 2013
More images added to library

Twins feeding two at a time, a newborn baby suckling, a snack in the beech woods of The New Forest and many others added.

---
December, 2012
LCGB conference flyer use WDIIP image

The highly respected organisation Lactation Consultants of Great Britain have used an image from our library to advertise their April 2013 conference. See it here.


---
November 22, 2012
WDIIP image published in world wide photo project book

On May 15, 2012 amateur and professional photographers around the world were asked by Aday.org, a Swedish based humanitarian organisation, to take photos of daily life. A set of new WDIIP breastfeeding volunteers came forward to be photographed, and Paul sent in a selection of ten images taken on the day. The ten images were added to the tens of thousands contributed from around the world, becoming part of a huge online archive. Prior to the launch of the full archive, one of our images, shown below, was chosen to be part of 100 selected images to give a flavour of what was to come. In addition, the same image was selected to be in a book of the project. Titled "A Day in the World" the book is now available on Amazon. The photo is on the cover too! Thank you everyone who supported our photography on May 15th.


---
November 16, 2012
More new photos

Laying the table, down on the farm, bedtime, relaxing in the playground - all occasions for a feed. These and more images added to the library.
---
August 1, 2012
Independent Blog

One of our volunteers, Lisa Watts, has written a clever and timely piece that has been accepted on The Independent's Blog Site linking the Olympics, World Breastfeeding Week, the library's prize winning photo of Lucie, Bosom Pals and more! . . .
Read it here.

---
July 31, 2012
WDIIP Launches its first Press Release to mark World Breastfeeding Week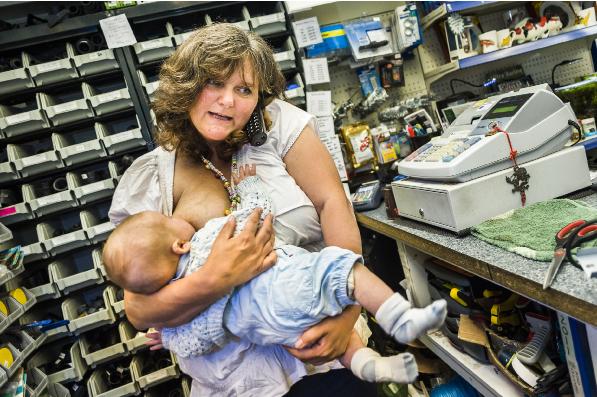 Paul's photo of WDIIP member Lucie Mann breastfeeding her son James entitled "Woman at Work" is one of only ten world-wide winners in a competition to promote World Breastfeeding Week. We Do It In Public have marked World Breastfeeding Week by announcing the win to the press and specialist media, thus promoting the picture library and the issues raised by the photograph.

See the full press release here.